How Synthetex Can Help With Developing a Mining Erosion & Sediment Control Plan
As concern about the limited supply and carbon footprint of fossil fuels mounts, the world is seeing a major energy transition underway, with shifts toward renewable sources such as hydropower, wind power, solar power, and geothermal power. This is associated with an increased market for minerals, which means more mining—and thus a greater need for erosion and sediment control to support mining logistics while minimizing environmental and social impacts. The HYDROTEX fabric-formed concrete we offer here at Synthetex can very much be an important part of this equation.
The Burgeoning Demand for Energy Transition Metals
As a recent article in GreenBiz notes, this transition to a low-carbon energy future comes with increasing demand for raw materials in the form of the minerals that renewable-energy electricity generation demands. Copper, lithium, and cobalt are among the "energy transition metals" (ETMs) most fundamental to these technologies. "An electric car, for instance, requires six times the mineral input compared to a conventional car," the authors—Samah El-Shahat and Musaab Almulla—explain, "while an onshore wind plant requires nine times more mineral resources than a typical gas-fired plant."
With electric-car production projected to grow by leaps and bounds in the coming decades, resulting ramped-up use of lithium-ion batteries will be a significant driver of energy transition mineral (ETM) mining. The GreenBiz article points out that lithium extraction is "expected to see a considerable growth of about 40 times by 2040 to meet the Paris Agreement goals." (The Paris Agreement is the international treaty adopted in 2015 on the heels of the U.N. Climate Change Conference in Paris, France. It aims to combat climate change by limiting greenhouse-gas emissions in order to keep the increase in global mean temperature to 1.5 degrees Celsius, or 2.7 degrees Fahrenheit.)
With the expansion of the mining sector as part of the current energy transition, mining companies will need to address their "large social and environmental footprints, which are coming under greater scrutiny as investors shift capital into ESG funds," the GreenBiz article states.
The control of erosion and the management of toxins, byproducts, and sediment are fundamental to effective and environmentally responsible mining. HYDROTEX fabric-formed concrete is here to assist with these objectives.
Mining Erosion Protection & Sediment Control Solutions From Synthetex
From reinforcing embankments and sealing tunnels to lining channels and retention ponds, state-of-the-art HYDROTEX formworks can help mining facilities tackle any number of erosion- and sediment-control needs. Additionally, we have solutions to protect and/or provide ballast to geomembranes in tailings impoundments.
The exceptional customizability of HYDROTEX fabriforms, backed up by the ease with which they can be transported and installed, make them first-rate solutions for the mining industry. Mines are complex operations, often large-scale and commonly situated in remote settings. Our geotextiles are tailor-made for such challenges!
HYDROTEX fabriforms can be custom-ordered for a wide variety of applications and dimensions. Transported in rolls, these products require lower freight costs than prefabricated concrete blocks, riprap, and other precast alternatives. They are also far simpler to install, without the need for heavy machinery and large crews. Laid in place for the perfect fit and easy adjustability, HYDROTEX fabriforms are then pumped in place with fine aggregate concrete.
Cheaper to transport, with very little laydown area needed, and easier to install, these fabric formworks nonetheless confer equal or greater protection against environmental and mechanical degradation and contamination as those prefab products. They're incredibly durable and require minimal long-term maintenance. Why are they more durable? Well, the geotextile fabric forms allow for bleed off of water from the concrete mix. This reduction in water and therefore lowering of the water:cement ratio leads to approximately doubling of the concrete compressive strength after pumping into the fabric formworks.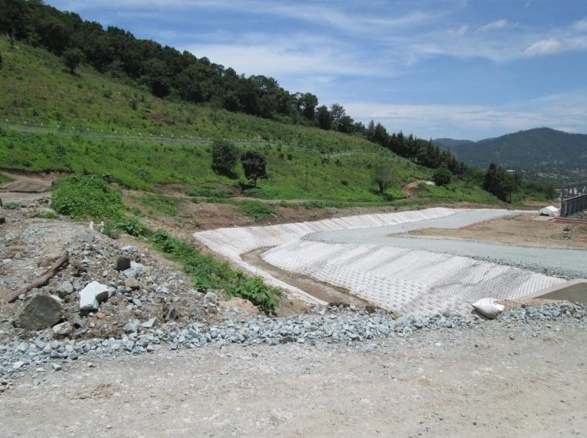 Learn More About HYDROTEX Solutions for Mining Erosion Control & Sediment Management
Among the specific HYDROTEX products perfect for mining applications are:
Click on the above links for more details on each of these top-of-the-line HYDROTEX solutions. Please note that in channels that have lower flow, Synthetex can assist with a green channel option with the Enviromat FX. Utilizing a green solution can be of great benefit as it can assist with permitting.
Turn to HYDROTEX for Mining Erosion & Sediment Control Solutions
Besides the exceptional quality and versatility of our HYDROTEX products, the Synthetex advantage means start-to-finish design support from our engineering team, training and technical support, including in the form of on-site consulting with regard to installation and construction needs. We're here to make sure you get the most out of your HYDROTEX solution so it can perform superbly over the long haul!
To learn more about how HYDROTEX fabric-formed concrete can enhance your mining operations, reach out to the Synthetex team for a free consultation. You can get in touch with us here at the website, or by phone at 1-800-253-5061 or 770-399-5051.
https://synthetex.com/wp-content/uploads/2022/09/Synthetex-website-header-logo-300x139.png
0
0
Heather Heydet
https://synthetex.com/wp-content/uploads/2022/09/Synthetex-website-header-logo-300x139.png
Heather Heydet
2022-03-16 17:08:54
2022-03-24 00:49:33
How Synthetex Can Help With Developing a Mining Erosion & Sediment Control Plan