The Importance of Proper Coal Ash Storage & How Synthetex Can Help
Recent moves by the Environmental Protection Agency (EPA) underscore the importance of properly storing coal ash, that byproduct of burning coal, to safeguard waterways, aquifers, ecosystems, and human health.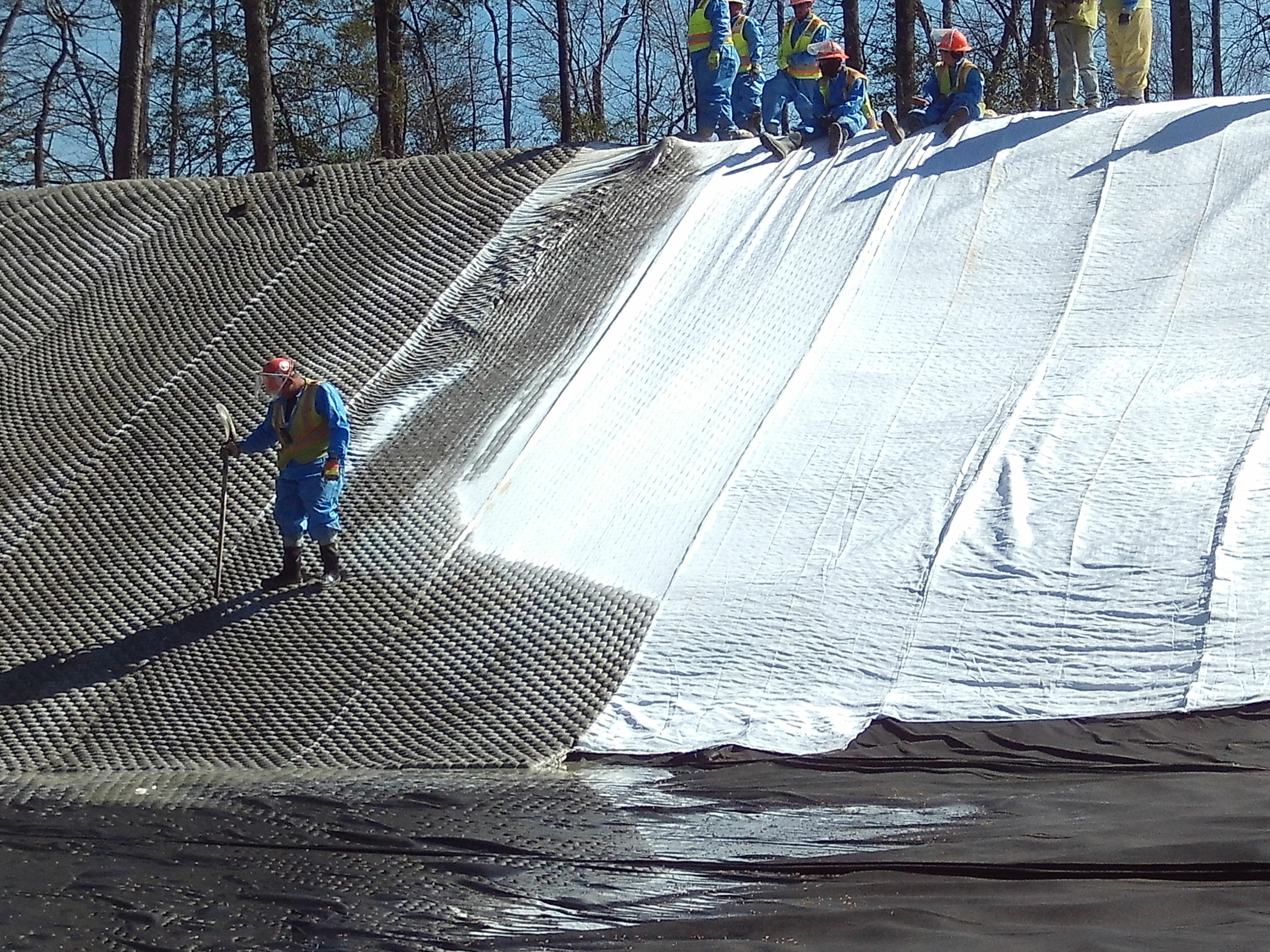 As the Associated Press reported earlier this year, the agency is for the first time moving to enforce requirements codified in 2015 regarding coal-ash management in landfills and impoundments.
Here at Synthetex, we can help coal-fired power plants properly secure coal-ash storage sites thanks to our custom HYDROTEX fabric formworks, which provide a robust and permanent protective armor over geomembrane liners. We'll explain more about this solution in a bit, but first let's look a bit more closely at the EPA's recent actions and why coal ash is such a concern.
EPA Regulation of Coal Ash Storage & Disposal
The burning of coal produces an array of byproducts, a number of which—including fly ash, bottom ash, boiler slag, and flue-gas desulfurization material—are classed together as "coal ash." You'll also see coal ash referred to as "coal combustion residuals" (CCRs). Considerable amounts are produced in the U.S. every year: close to 130 million tons in 2014, for example, according to statistics from the American Coal Ash Association.
Coal ash is toxic, filled as it is with contaminants such as arsenic, mercury, and cadmium, and can pollute streams, rivers, lakes, groundwater, and the air itself. Both an environmental and public-health concern, CCRs were nonetheless only loosely regulated for many years. Some high-profile disasters this century brought the problem of coal ash to national attention. In 2008, a burst containment dike at a Kingston, Tennessee power plant resulted in a coal-ash spill that inundated 300-plus acres, demolished homes, and polluted two river systems. Then, in 2014, failure at a coal-ash pond in Eden, North Carolina released between 50,000 and 82,000 tons of coal ash as well as nearly 30 million gallons of contaminated wastewater into the Dan River.
This past January, the EPA reaffirmed its focus on protecting groundwater and other resources from CCR contamination via a number of actions. These included handling extension requests from dozens of plants regarding the closure of unlined coal-ash surface impoundments and notifying facilities in violation of standing CCR requirements. Its recent actions also included "laying out plans for future regulatory actions to ensure coal ash impoundments meet strong environmental and safety regulations," as the agency's press release stated.
Coal Ash Storage & How HYDROTEX Fabric-Formed Concrete Can Help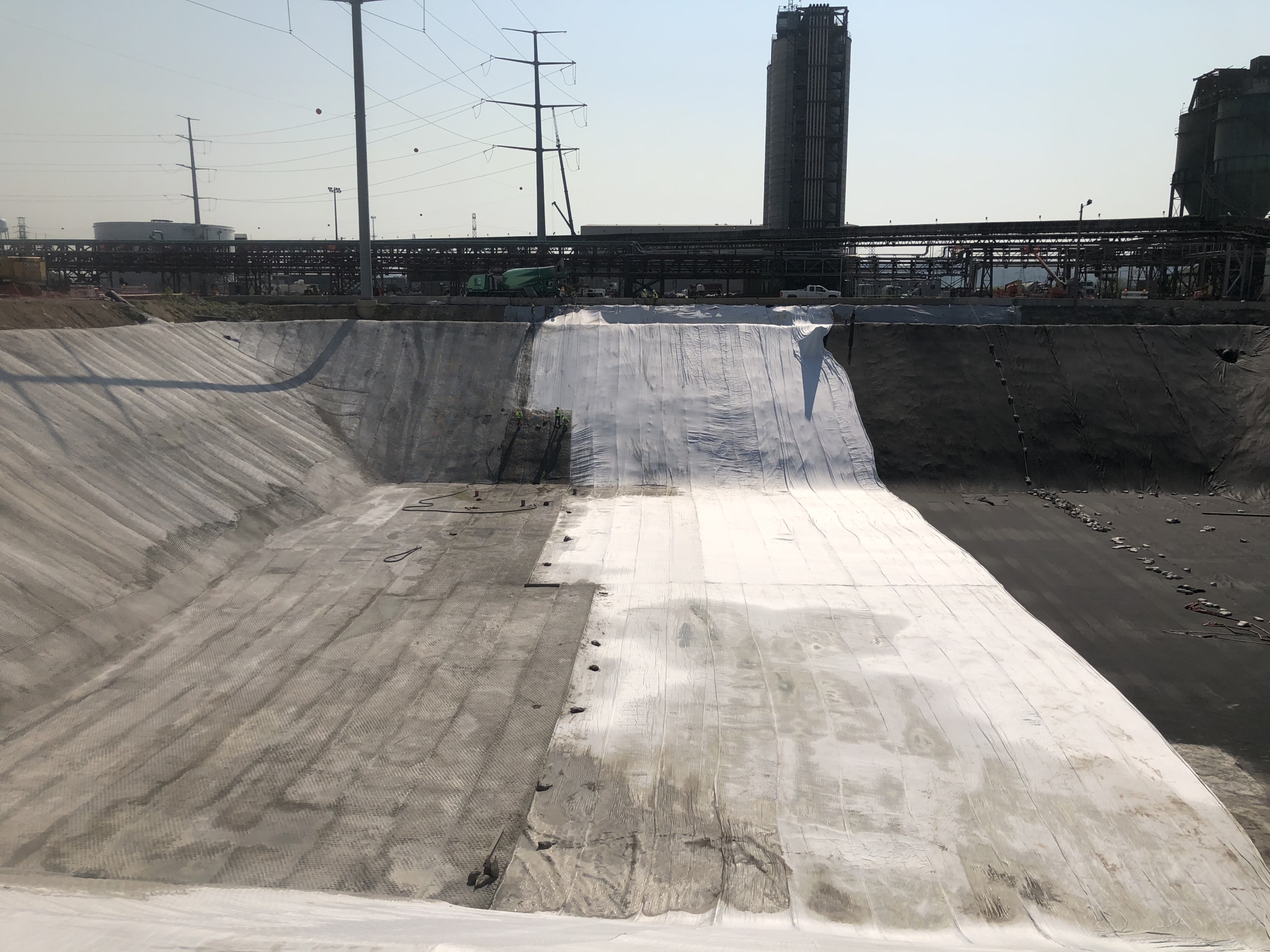 Power plants utilize geomembranes such as HDPE liners to line the channels and ponds used to contain coal ash. These liners can be damaged by a variety of environmental factors, from degradation through UV exposure to uplift from wind. Heavy equipment and vehicles used to move and deposit coal ash can also result in major damage to the liners. Given the environmental stakes involved—and given the expense of these liners and the associated CCR storage projects—such deterioration of the geomembrane is a serious concern.
That's where HYDROTEX fabric-formed concrete from Synthetex come into play to save the day! Our custom fabriform mattresses can be laid on geomembranes and then pumped in situ with fine aggregate concrete to provide sturdy and incredibly durable armoring for the liner. Along with shielding the liner from UV rays, scouring winds, heavy machinery, and other sources of environmental and mechanical damage, these fabriform concrete mattresses also contribute to the geomembrane liner's barrier between the stored coal ash and groundwater.
The ideal Synthetex product for coal-ash liner protection is our HYDROTEX Uniform Section Concrete Mattress. These formworks come in a variety of thicknesses ranging between 2 and 16 inches. This cast-in-place solution can be adapted to just about any configuration, offering a completely customizable option for armoring geomembranes. And transport and installation couldn't be easier compared with the typical freight costs and the heavy-machinery and manpower demands of precast alternatives.
Turn to Synthetex for HYDROTEX Protection of Coal Ash Liners
Synthetex has an experienced engineering design support team for rigorous consulting, as well as proven on-site technical support during HYDROTEX installation. The Synthetex team is here for you every step of the way – throughout all project stages of budget costs, design, bidding, and installation – to ensure the most effective protection for coal-ash channel and pond liners. Our HYDROTEX Uniform Section Concrete Mattresses provides custom installation and long-lasting performance with minimal maintenance to support responsible and compliant CCR disposal.
Arrange a free consultation by calling 1-800-253-0561 or 770-399-5051, or by contacting us online.
https://synthetex.com/wp-content/uploads/2022/09/Synthetex-website-header-logo-300x139.png
0
0
Heather Heydet
https://synthetex.com/wp-content/uploads/2022/09/Synthetex-website-header-logo-300x139.png
Heather Heydet
2022-03-16 14:25:58
2022-03-16 14:43:02
The Importance of Proper Coal Ash Storage & How Synthetex Can Help