Erosion Control for Landfills
Synthetex manufactures custom fabric-formed concrete systems that increase the longevity of geomembranes, downchutes, and leachate collection ponds in landfills.
Landfills have a sophisticated set of components that must be protected from erosion and damage to keep harmful leachates from seeping into the groundwater. HYDROTEX fabric-formed concrete mats can protect collection ponds from erosion, provide a hard armor over geomembranes, and protect downchutes, enhancing the longevity of these elements.
HYDROTEX fabric-formed concrete is the best solution for landfills because it is permanent, easy to install, and requires little maintenance after installation.
Save money, resources, and time on your next erosion control project. Get a project estimate:
Today's landfills have evolved to become essential to comprehensive waste management. Modern sanitary landfills rely on sophisticated engineering to emphasize environmental stewardship throughout site selection, design, permitting, construction, operation and decommissioning.
Synthetex helps build modern landfills with integrated systems, technologies and processes that help ensure environmental protection. The specifications for a modern landfill include design features such as:
Protection of liners made of clay and plastic
Leachate collection and management systems
Drainage systems
Landfill covering options
Landfill covers, caps and liners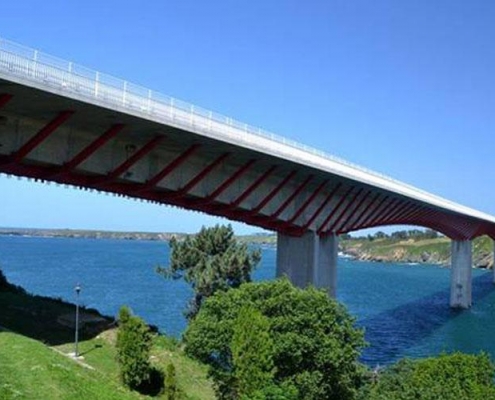 https://synthetex.com/wp-content/uploads/2020/02/Bridges.jpg
500
850
Heather Heydet
https://synthetex.com/wp-content/uploads/2022/09/Synthetex-website-header-logo-300x139.png
Heather Heydet
2020-02-05 13:40:34
2022-02-04 07:21:13
Scour Protection for Bridges & Piers
How do you install HYDROTEX at a landfill?
Depending on the part of the site that will be protected or armored, the installation process can vary, but the basics will remain the same. To install a HYDROTEX fabric-formed concrete mattress, simply prepare the ground, lay out the geomembrane (if not already installed), then unroll the custom-fabricated geosynthetic panels over the liner. Using a small-line concrete pump, fill the fabric with fine aggregate concrete until the mattress reaches its designed thickness.
Save money, resources, and time on your next erosion control project. Get a project estimate: