Shoreline Stabilization Techniques to Control Erosion
Whether it's the storm surf or the more subtle but relentless bite of breaking waves, propeller wash, and tidal action, shorelines take a continuous beating at the interface of land and water. This is an inevitable process, of course, and part of the natural sculpting of these dynamic margins. But when the shorelines in question edge valuable property or critical infrastructure, this erosion can be costly—even outright catastrophic.
There are many engineering solutions available for shoreline erosion control and stabilization, but not all of them are made equal. When it comes to cost-effectiveness, ease of installation, customizability, and ecological integrity, it's hard to beat HYDROTEX fabric formworks, especially our our Articulating Block Mats, which can be combined with our Enviromat Concrete Lining.
Approximating a "Living Shoreline": Synthetex's HYDROTEX Enviromat Concrete Lining
The National Oceanic and Atmospheric Administration (NOAA) advocates for wider use of "living shorelines" to buffer and stabilize many coastal environments and structures. These are shorelines that incorporate vegetation and other natural "soft" elements with rock, wood, and other harder material, typically utilized along more sheltered shores of bays, inlets, and the like. Living shorelines contrast with entirely hard shoreline installations such as seawalls.
"Living shorelines connect the land and water to stabilize the shoreline, reduce erosion, and provide ecosystem services, like valuable habitat, that enhances coastal resilience," the agency notes.
Part of the great appeal of our Enviromat Concrete Linings (along with the same completely customized, site-specific arrangement, as we'll get into) is the ability to vegetate a fabriform-stabilized shoreline. These Enviromat Concrete Linings consist of HYDROTEX geotextile fabric formworks pumped in situ with fine aggregate concrete, but the design integrates unfilled sections among the concrete-filled elements. Once the pumped concrete has set, workers can cut into the fabric at the unfilled spots and either directly plant them or install topsoil and then seed them, or allow natural vegetation to take over if time permits..
In no time at all, the Enviromat fabric-formed concrete linings support living greenery, further stabilizing the structure, softening and enhancing its aesthetic effect, and providing a rich suite of on-site ecological benefits, including waterfront habitat and photosynthesis activity.
As such, HYDROTEX Enviromat Concrete Linings from Synthetex can provide a version of a living shoreline for lakeshores, bayfronts, riversides, reservoir embankments, channel walls, and other settings.
Another Solution for Shoreline Stabilization & Erosion Control: HYDROTEX Articulating Block Mats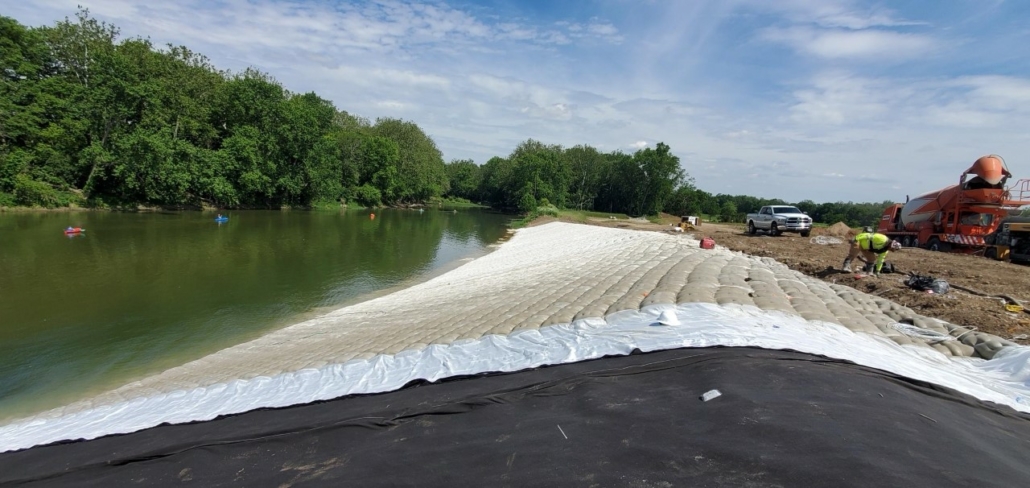 Among our other HYDROTEX products, Synthetex Articulating Block Mats provide another excellent choice for stabilizing shorelines and combating erosion and scour. These consist of concrete block mattresses strung through with grout ducts and anchored by ultra-strong revetment cables.
With pumped-in concrete forming pillow-shaped blocks, these mattresses achieve articulation courtesy of the interwoven perimeter hinges and the embedded cables. The end result is an extremely durable revetment offering superior shoreline stabilization and erosion resistance.
Furthermore, as with our Enviromat Concrete Linings and Articulating Block Mats, vegetation can be incorporated into the fabric areas designed within the mats.
The Advantages of HYDROTEX Enviromat Concrete Block Linings & Articulating Block Mats Over Precast Concrete Shoreline Stabilization Solutions
The fabric-formed concrete we offer here at Synthetex for shoreline stabilization and erosion/scour control offers a host of advantages over traditional precast alternatives. Transported as they are in space-efficient, unfilled condition, these fabriforms require significantly less freight costs, and they can be installed without requiring heavy equipment such as crane and large work crews.
By first installing the unfilled geotextile linings or mattresses in the exact dimensions and then pumping them with concrete, you have a revetment product that completely conforms to the shape of the shoreline structure in question, providing the most thorough protection as well as the most cost-efficient installation. Our HYDROTEX Enviromat Concrete Linings and Articulated Block Mats can be customized for complicated geometries or configurations and installed in limited-clearance environments.
The perfect site-specific matching, exceptional durability, and extremely low maintenance of Synthetex's Enviromat Concrete Linings and Articulated Block Mats, plus the ability to vegetate these fabric-formed concrete installations, makes them homerun choices for a wide variety of shoreline-stabilization and erosion/scour-control applications.
Our Synthetex engineers can provide consulting throughout the entire process, including technical assistance in the field.
Choose Synthetex HYDROTEX Fabric-Formed Concrete to Stabilize Shorelines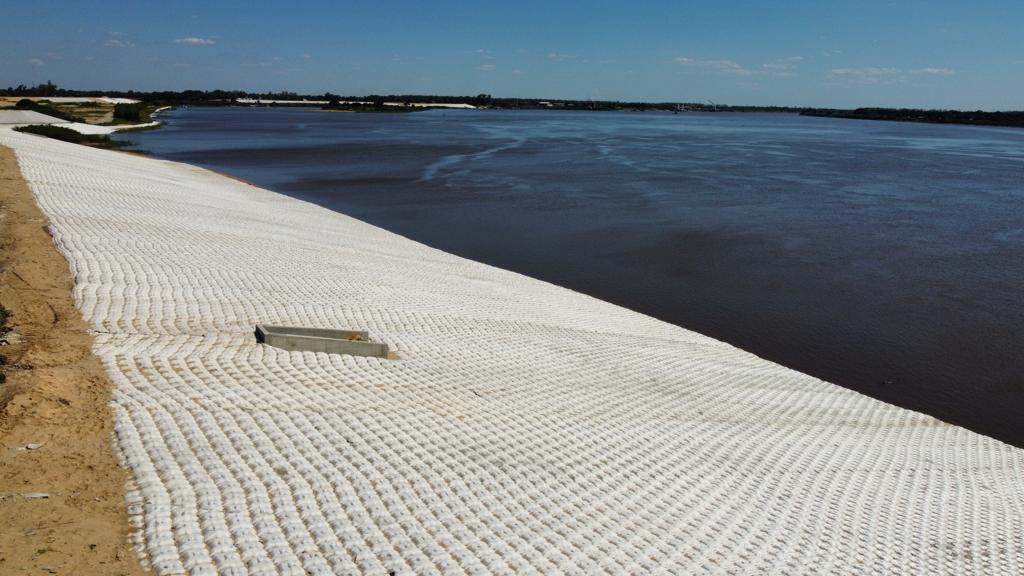 We hope you'll consider HYDROTEX Enviromat Concrete Linings or Articulating Block Mats for your shoreline stabilization needs! Again, these 100% customizable HYDROTEX fabric formworks offer a slew of advantages over traditional precast concrete structures, and come backed up by the rock-solid counseling and technical support of the Synthetex team.
To discuss how Enviromat Concrete Linings, Articulating Block Mats, or any other of our HYDROTEX fabriform shoreline erosion control products could work for your project, reach out to Synthetex and take advantage of our free consultations! You can get in touch by calling 1-800-253-0561 or 770-399-5051, or by emailing us at info@synthetex.com. We look forward to hearing from you soon!
https://synthetex.com/wp-content/uploads/2022/09/Synthetex-website-header-logo-300x139.png
0
0
Heather Heydet
https://synthetex.com/wp-content/uploads/2022/09/Synthetex-website-header-logo-300x139.png
Heather Heydet
2021-12-30 06:19:12
2021-12-30 06:31:51
Shoreline Stabilization Techniques to Control Erosion