Say Goodbye to Grouted Rip Rap
Rip rap refers to angular stones or boulders installed by hand or machine to buffer against wave action and river scouring and dissipate and resist hydraulic energy. To get around the logistical challenges of sourcing, transporting, and installing the larger rock rip rap required for stronger currents and waves, engineers often install grouted or partially grouted (aka matrix) rip rap, composed of smaller pieces of rock cemented together.
As it happens, grouted or matrix rip rap has its definite drawbacks, making HYDROTEX fabric-formed concrete from Synthetex an attractive alternative.
Grouted & Matrix Rip Rap vs. HYDROTEX Fabric-Formed Concrete
Grouted and partially grouted riprap can be difficult to procure, difficult to install, a challenge to control uniformity, especially underwater; it also requires significant manpower. Additionally, it's often easier said than done to arrange rip rap so that it provides the most comprehensive and site-specific protection against erosion, scour, and hydraulic pressure and holds up over years of current-gnawing and wave-battering.
By comparison, HYDROTEX fabric-formed concrete offers an incredibly cost-effective, easily obtainable, customizable, and low-maintenance alternative to permanently protecting bridge piles, piers, and abutments as well as basins, dams, locks, port and terminal facilities, and other structures from erosion and scour.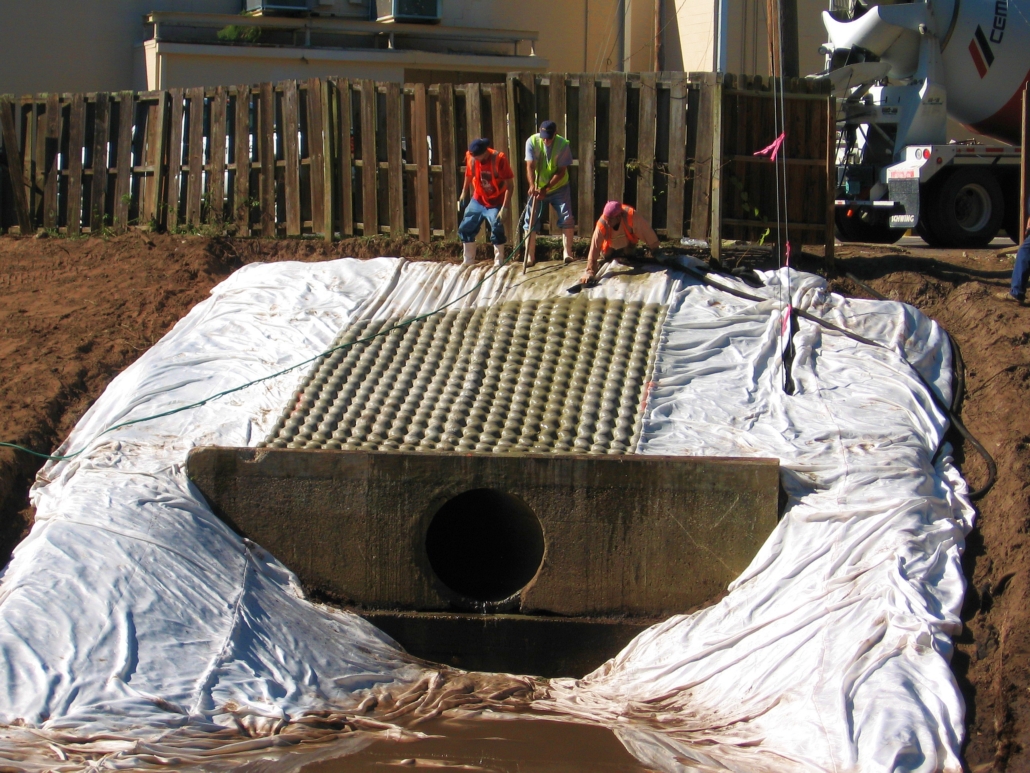 The Advantages of HYDROTEX Fabric-Formed Concrete Over Grouted Riprap & Other Traditional Methods
HYDROTEX fabric-formed concrete provides an excellent alternative to grouted and partially grouted rip rap, rip rap bags, and rip rap concrete, not to mention precast articulating concrete blocks (ACBs), gabions and numerous other erosion- and scour-buffering technologies.
The HYDROTEX geosynthetic fabric, equally suited to above- and below-water applications, can be woven and manufacturer-fabricated to fit the dimensions and shape of piers, piles, embankments, and other structures. Laid directly on the structure, the fabric is then pumped in-situ with high-strength fine aggregate concrete, uniquely conforming to the site's contours.
HYDROTEX Fabric-Formed Concrete Used for Bridges, Locks, Dams, Ports, and Other Applications
This process allows for the creation of a durable, permanent armor for bridge piles, bridge abutments, piers, embankments, and breakwaters, plus spillway protection, scour aprons, tunnel closures, and other solutions for locks and dams. HYDROTEX fabric-formed concrete panels armoring ports and harbors provide an effective safeguard against prop and thruster scour.
All of these uses are, of course, on top of any number of other HYDROTEX options for buffering against erosion and scour and providing liner protection, from underwater pipelines to channel beds, ditches, and slopes.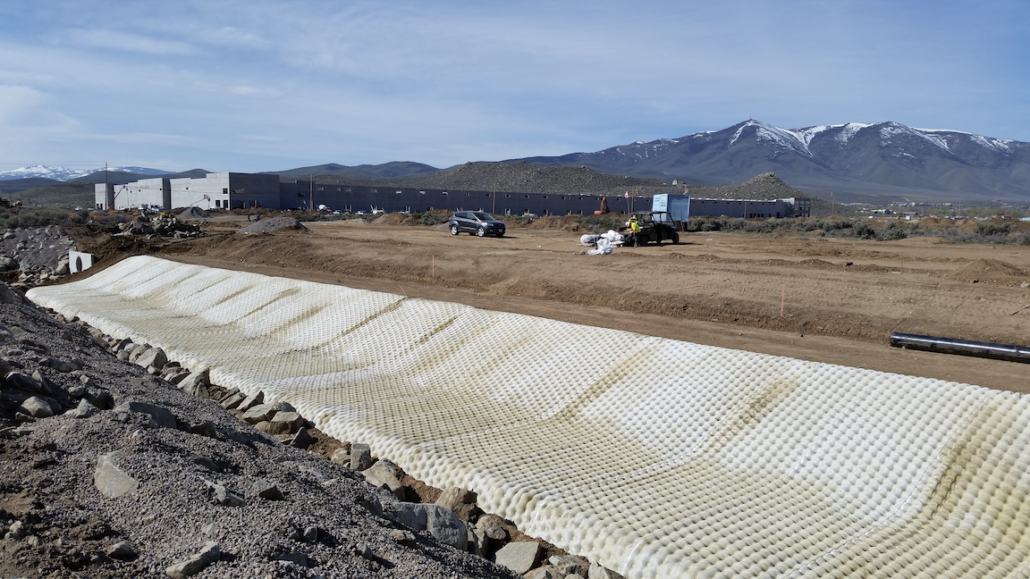 Examples of HYDROTEX Products That Function as Competitive Alternatives to Grouted Rip Rap, Rip Rap Concrete, and Rip Rap Bags
Among the HYDROTEX products providing a readymade alternative to grouted rip rap and related installations are the HYDROTEX Articulating Blocks, which can be formed into cable-tied, articulating fabric-formed concrete mattresses of varying thicknesses to conform to any subgrade or other surface; our easy-to-use and easy-to-install Grout Bags, which can be arranged side-by-side or stacked to create an incredibly versatile formwork; and our Pile Guards ideal for underwater bridge structures, including those of non-standard dimensions.
Less Shipping & Installation Costs Compared to Rip Rap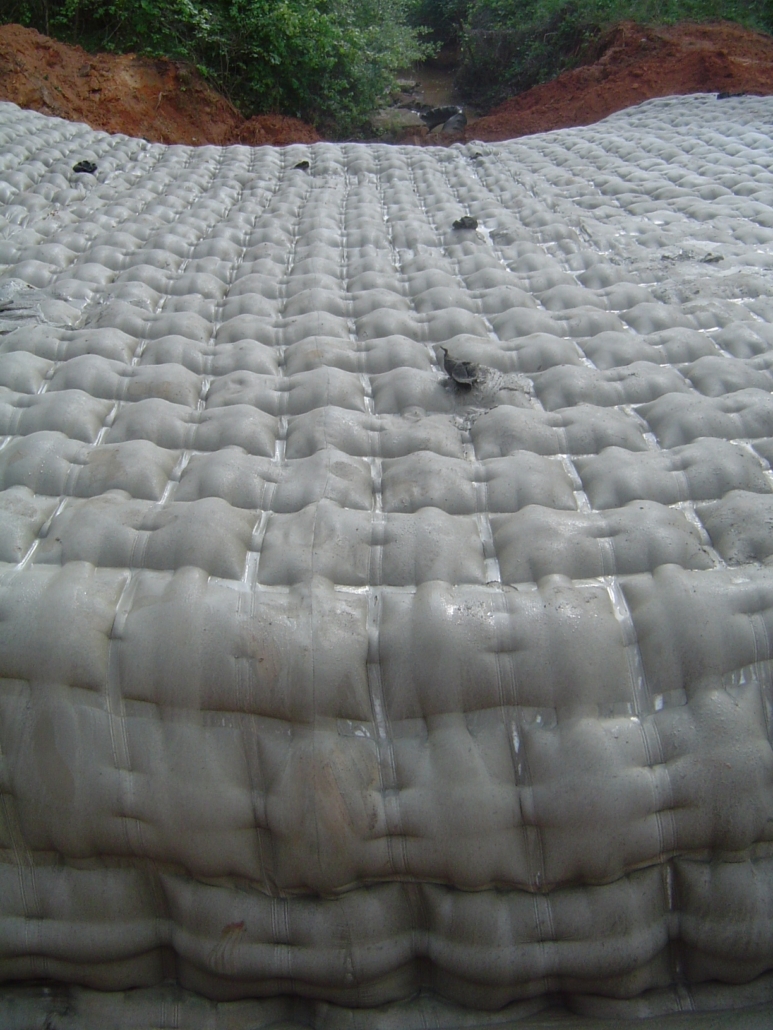 Given they're delivered as unfilled geosynthetic fabric panels or bags and pumped with fine aggregate concrete in-situ, HYDROTEX products entail far lower shipping costs than standard alternatives. They also demand nothing like the manpower and heavy machinery (and thus the extra expense, time, and inevitable headaches) required to install grouted rip rap. By comparison, HYDROTEX formwork installation is straightforward and simple.
And, again, our fabric-formed concrete provides an entirely customizable erosion- and scour-protection solution designed around the exact dimensions and contours of the site, with none of the waste and inefficiency of purchasing rock riprap or precast concrete blocks in bulk.
Technical Consulting & On-site Assistance From Synthetex Engineers
Another plus? Our Synthetex team provides technical design assistance for engineers and training for contractors, as well as on-site consulting throughout the installation process. That helpful engineering support goes hand in hand with the exact sizing of the HYDROTEX fabric-formed concrete products for your site to provide an absolutely unbeatable custom solution.
Turn to HYDROTEX Fabric-Formed Concrete as an Alternative to Grouted & Partially Grouted Rip Rap
Readily available, economical to transport, hassle-free to install, and producing a permanent, effectively maintenance-free armor in freshwater and marine environments alike, HYDROTEX fabric-formed concrete makes an exceptional alternative to grouted rip rap. Learn more about our family of HYDROTEX formwork products and their ideal applications right here.
Get in touch with the Synthetex team for a project estimate and more information on how HYDROTEX formworks can meet all of your erosion- and scour-protection needs! You can touch base with us by calling 1-800-253-0561 or by filling out our online contact form. We look forward to hearing from you—and to reinforcing whatever structure you need protected from scour and erosion, from hydroelectric dams to breakwaters and jetties!
https://synthetex.com/wp-content/uploads/2022/09/Synthetex-website-header-logo-300x139.png
0
0
Heather Heydet
https://synthetex.com/wp-content/uploads/2022/09/Synthetex-website-header-logo-300x139.png
Heather Heydet
2021-11-04 15:59:24
2021-12-27 10:32:42
Say Goodbye to Grouted Rip Rap