Thinking of Using a Gabion System for Erosion Control?
The HYDROTEX fabric-formed concrete solutions we offer at Synthetex provide an easy-to-install, incredibly versatile, and completely customizable solution for permanent erosion and scour protection and prevention. It's a highly efficient and cost-effective alternative to a variety of other technologies, including the long-used gabion.
Gabions & Reno Mattresses
Gabions refer to cages or boxes filled with soil, sand, stones, or broken concrete that are used to reinforce slopes and embankments, form retaining and other walls, line channels, and for a variety of other protective or bolstering engineering purposes. Reno mattresses are essentially thinner versions of the gabion commonly used in channel beds and slopes.
Perhaps you're considering standard gabions or reno mattresses for a project. How do our HYDROTEX fabric formworks compare to these structures?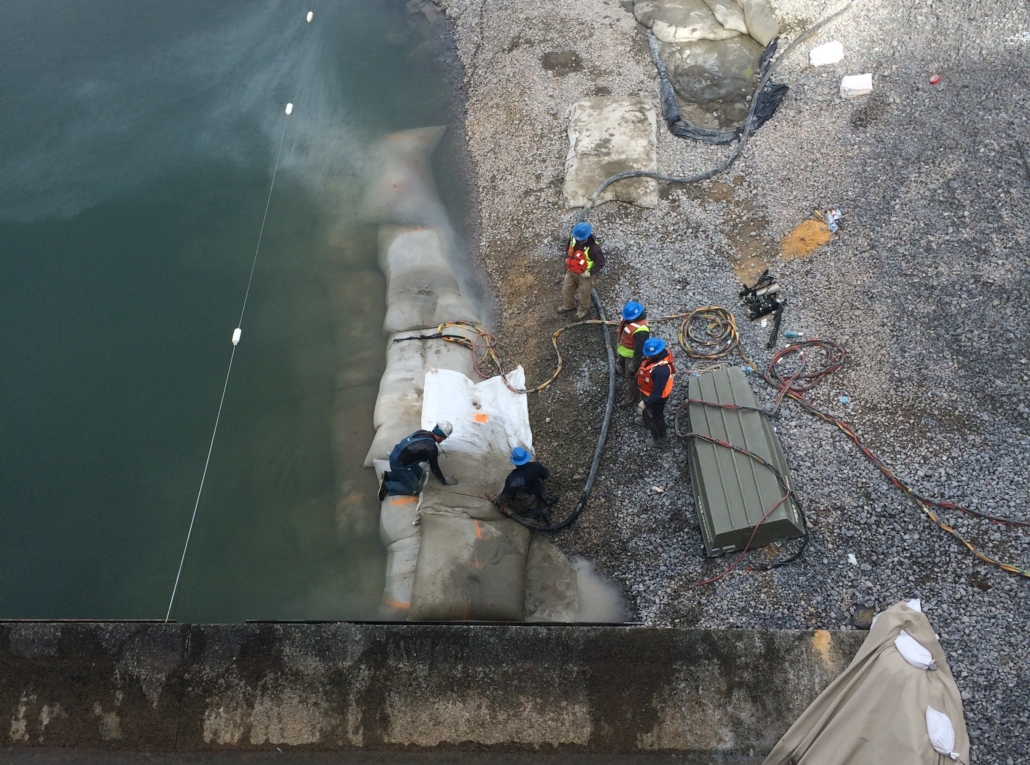 Introducing HYDROTEX Fabric-Formed Concrete
Elegant simplicity, across-the-board versatility, and outstanding performance define the best-kept-secret of HYDROTEX fabric-formed concrete. Our geotextile fabric forms—which are functional from dry land to underwater applications—are laid upon or around the surfaces or structures requiring protection, then pumped with high-strength fine aggregate concrete to create permanent erosion control or scour protection.
Protecting runoff-prone slopes, lining channels and ditches, protecting submarine pipelines, capping contaminated sediment layers, protecting geomembranes at landfills and other sites, armoring shorelines and bridge piles against the pummeling of waves: The uses of HYDROTEX are many and varied. That's reflected in the multiple specific HYDROTEX products we offer at Synthetex, ranging from Uniform Section Linings and Articulating Block Mats to Armor Units and Subsea Formworks.
Deciding Between Gabion Erosion Control & the HYDROTEX Fabriform Approach
While their design differs significantly, traditional-style gabions and HYDROTEX fabric formed concrete serve similar purposes, and you may find yourself trying to decide between one or the other for a given application.
There are a few situations where gabions are a better choice than HYDROTEX fabric-formed concrete. An example might be reinforcing a vertical or near-vertical slope. But in most cases, HYDROTEX fabriforms make a fantastic low-cost and low-labor alternative to gabion installation on banks, slopes, pilings, and many other setups.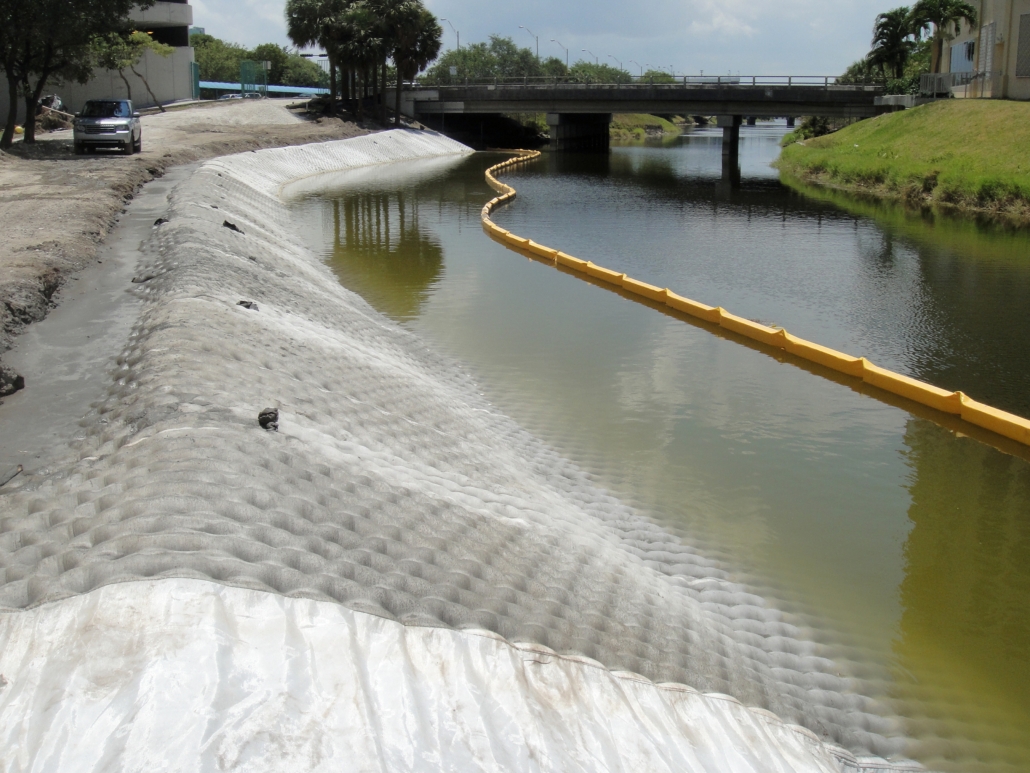 HYDROTEX Formworks vs. Reno Mattresses in Channel Beds & Banks
The same goes for the reno mattresses commonly employed in drainageways. Our HYDROTEX fabric-formed concrete liners are ideal for lining channels, canals, and ditches, warding against bank erosion, resisting hydrostatic pressure and waterlogging, and allowing for largely unimpeded flow. Depending on the needs of a particular project, HYDROTEX formworks such as our HYDROTEX Uniform Section Linings can prevent against the vegetation buildup that can clog channels, or—as in the case of our HYDROTEX Enviromat product—facilitate revegetation where that's desired.
HYDROTEX Fabric-Formed Concrete: Economical to Transport, Easy to Install
Given the delivery of these fabric forms in a rolled-up, unpumped state, ready to be filled with concrete in-situ, HYDROTEX involves much lower freight costs, zero importing, staging and filling with rock, a lot of less manpower in terms of installation, and minimal maintenance over the long-term than many alternatives. HYDROTEX products are readily available, easy to transport, and extremely efficient and straightforward to lay out and fill up. You don't need the scale of machinery and heavy equipment required to hoist prefabricated articulating concrete blocks (ACBs), rock rip rap, and large quantities of infill around.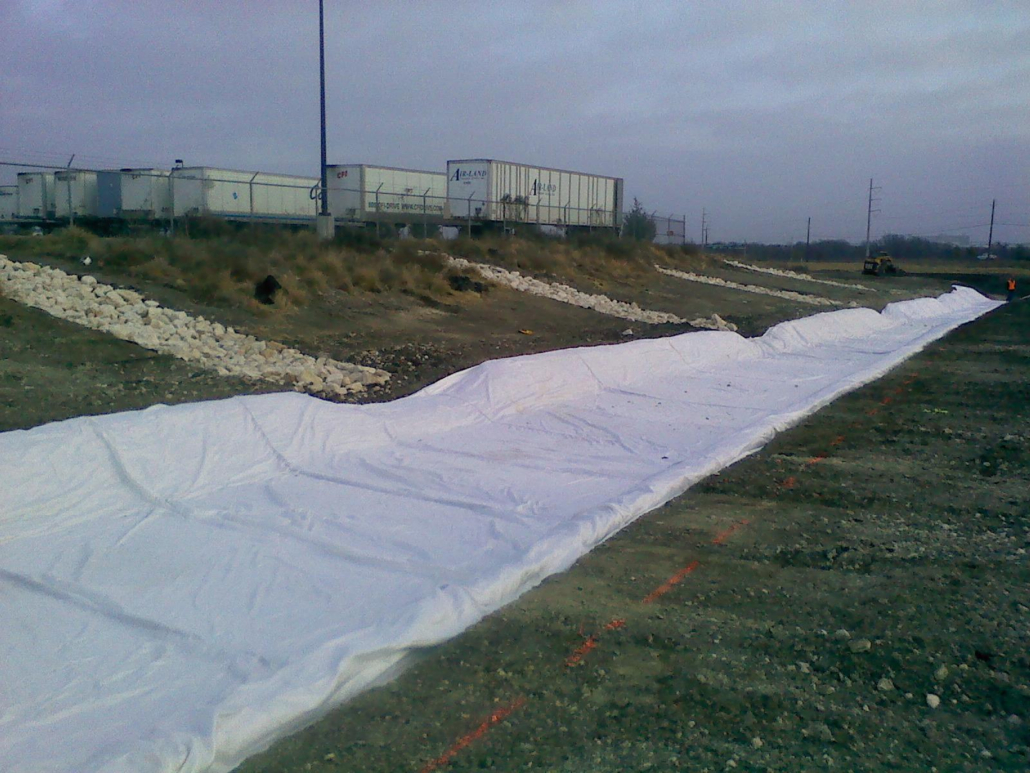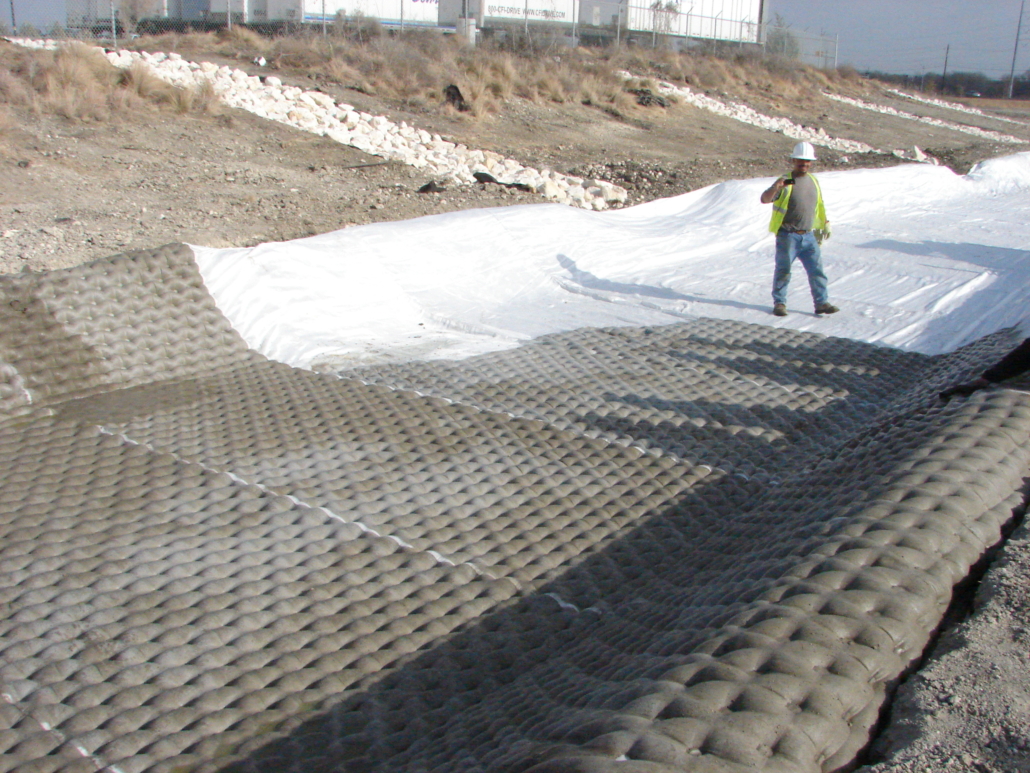 Assistance From Synthetex Engineers on HYDROTEX Fabric-Formed Concrete Installation
There's another major bonus to choosing HYDROTEX: Our Synthetex engineers provide project-specific engineering support to the design consultant, as well as training and other technical assistance to the contractors on the project. We eagerly provide on-site installation techical assistance and all-around support services. We can also help make sure the right supplies and equipment are on hand to ensure proper installation of our fabric formed concrete products.
Choose HYDROTEX Fabric Formed Concrete for Permanent Erosion Prevention, Scour Protection, and Effective Lining
Whether you need to ensure a reliably free-flowing stormwater channel or irrigation ditch, protect a pier or seawall from coastal erosion, protect or ballast a landfill liner, or protect a slope from erosion and runoff scour, look no further than HYDROTEX fabric-formed concrete from Synthetex!
Our geotextile fabric forms and the high-strength fine aggregate concrete that fill them provide, in many cases, an all-around superior alternative to gabions and reno mattresses, not to mention rip rap, soil cement, brickwork, and other constructions. The cost-effective, labor-saving shipping, handling, and installation combined with the fine-tuned customization available given the unique technology set HYDROTEX formworks apart from the pack.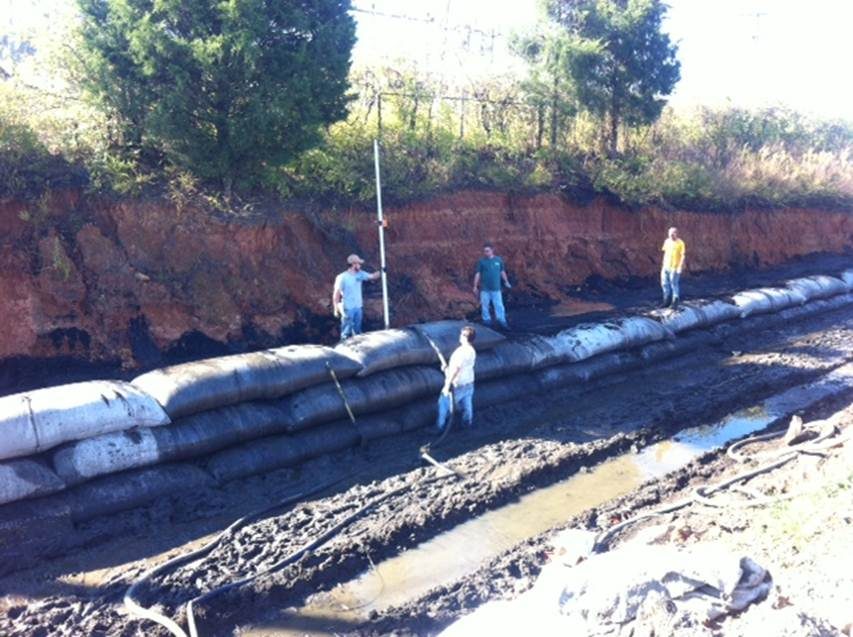 Contact Synthetex for More Information on HYDROTEX Fabric-Formed Concrete
Don't hesitate to get in touch with Synthetex with any and all questions about what HYDROTEX mattresses, linings, grout bags, pile jackets, and other products can do for your needs. We're happy to field questions as to whether our formworks are a good choice for a particular project.
You can obtain a project estimate and any other information by calling us at 1-800-253-0561 or by filling out our online contact form.


https://synthetex.com/wp-content/uploads/2022/09/Synthetex-website-header-logo-300x139.png
0
0
Heather Heydet
https://synthetex.com/wp-content/uploads/2022/09/Synthetex-website-header-logo-300x139.png
Heather Heydet
2021-10-22 17:10:39
2021-12-27 10:35:03
Thinking of Using a Gabion System for Erosion Control?