It goes without saying that cruise and container ship terminals are logistically challenging maritime environments, given the size and design of the vessels involved and the magnitude of ship traffic. Among numerous concerns in managing these waterfronts, scour protection ranks high up there.
To protect waterfront installations and seabeds from this pernicious form of erosion, look no further than the innovative HYDROTEX fabric formworks we offer here at Synthetex. As capable underwater as on dry land, our cast-in-place fabriforms provide a superior alternative to rip-rap, armor stone, precast concrete blocks, and other traditional solutions.
Scour at Play in Cruise Terminals
Hydrodynamic scour involves the erosion of seabed material and degradation of underwater structures by currents and waves. In a maritime terminal, the bottom material of the port and a variety of installations, including berths, quays, piers, and seawalls, are vulnerable to a number of forms of scour.
Natural wave and tidal action can produce scour in cruise or shipping terminals, as in any waterfront facility. Then there's the scour resulting from the turbulence and suction produced by the propellers, thrusters, and wakes of powerful, low-clearance cruise ships, tug wash, and other vessels using or servicing the terminal.
Left unchecked, scour can damage the underwater environment and waterfront structures, and undermine the stability or performance of various terminal infrastructure. Regular innovations in cruise-ship design—from engine and size upgrades to new thruster technologies intended to boost the maneuverability, mooring, and offshore steadying of these hulking vessels—makes scour protection a dynamic issue facility managers need to stay on top of.
HYDROTEX Scour Protection for Cruise Terminal Applications
Traditional scour-protection solutions such as rip-rap and prefabricated concrete blocks often leave much to be desired. These materials are expensive and bulky to transport, require heavy equipment for off-loading, need large lay-down or storage areas, tend to require a fair amount of heavy machinery and human labor to install, and commonly end up demanding long-term maintenance. The structurally complex and heavily trafficked environment of a cruise terminal and other ports used by large watercraft can test the limits of these materials and the logistical realities of their proper installation.
This is where HYDROTEX fabric formworks can come right to the rescue! Our fabric-formed concrete is cast in place and completely customizable from start to finish, adapting to any number of waterfront setups.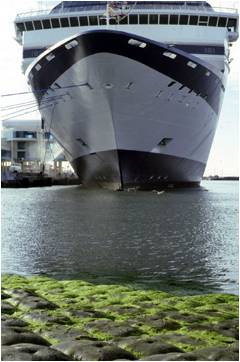 Efficient to transport, requires no heavy equipment for off-loading, needs a very small lay-down area, and easy to precisely arrange in unfilled form, HYDROTEX fabriform mattresses, grout bags, and other armoring units are pumped in situ with fine aggregate concrete, requiring minimal machinery and manpower. Depending on the depth of water and type of structure involved, they can be filled from the surface or by divers. These flexible, anti-scour HYDROTEX products provide long-lasting protection with little maintenance required.
Among the HYDROTEX products well suited to cruise terminals are:
Our engineering team will help you devise the perfect HYDROTEX solution for your scour-protection needs and the structural and dimensional requirements of the given terminal. We'll also work with you and your contractor to ensure all of the right materials and procedures are used, with Synthetex engineers also available to provide on-site consulting and technical support during the design or installation process.
Tackle Scour Protection in Cruise Terminals the Right Way Using HYDROTEX Fabric-formed Concrete
To learn more about how HYDROTEX products can perform in cruise-terminal applications, check out this case study profiling Port Canaveral, one of the world's busiest cruise ports. Most recently, our HYDROTEX Articulating Block and Uniform Section concrete mattresses were fitted for scour protection on a major project at the Port Canaveral Cruise Terminal Berth 1. However, our HYDROTEX solutions have continued to be used by Port Canaveral since the 1990s.
And then don't hesitate to get in touch with the Synthetex team for a free consultation or project estimate: We can be reached here at the website, or by calling 1-800-253-0561 or 770-399-5051. We look forward to hearing from you!
https://synthetex.com/wp-content/uploads/2022/09/Synthetex-website-header-logo-300x139.png
0
0
Heather Heydet
https://synthetex.com/wp-content/uploads/2022/09/Synthetex-website-header-logo-300x139.png
Heather Heydet
2022-04-15 16:22:24
2022-04-15 19:04:01
Why You Must Have Proper Scour Protection at Cruise or Container Ship Ports and Maritime Terminals