Bridge pier scour protection is simple with HYDROTEX fabric-formed concrete mattresses.
Don't run the risk of leaving bridge piers to the mercy of local scour and wave run-up. Instead, protect them with a HYDROTEX fabric-formed concrete mattress. The most effective countermeasure against bridge scour, HYDROTEX is easy to access, cost-effective, and designed for underwater installation. Call our team today at 1-800-225-0023 for a project estimate.
How is HYDROTEX used in bridge pier protection projects?
The Problem
Local scour at bridge piles (piers) can leave the foundation exposed, causing irreparable structural damage to the bridge. Such damage may necessitate tearing down the whole bridge and re-building it, costing millions of dollars to departments of transportation and municipal authorities.
The Solution: HYDROTEX Fabric Forms for the In-Situ Casting of Concrete
Prevent and remediate scour by casting a permanent mattress or grout bag with HYDROTEX fabric forms for the in-situ casting of concrete. These mattresses and bags will conform to the scour depth and stabilize the bridge pile.
Unlike pre-cast products, HYDROTEX can be installed underwater with more ease and is suited for installation sites with low head clearance conditions. Additionally, the HYDROTEX mattress is customized to accommodate the shape and size of the bridge pile, ensuring optimal scour prevention performance.
Best HYDROTEX Products for Scour Prevention and Remediation at Bridge Piers
HYDROTEX® Articulating Block
Use HYDROTEX Articulating Block fabric-forms to cast a cable-reinforced articulating concrete mattress. One of the most suited HYDROTEX products for bridge pier scour prevention, the articulating block mat conforms to the subgrade around and under the bridge pile as it is being pumped with fine aggregate concrete.
Remediating and preventing scour with a HYDROTEX Grout Bag is a simple application. Place the grout bag fabric form around the pile, then pump with fine aggregate. Synthetex takes pride in simplifying your process.
Have a pressing question? Want a consultation or project estimate?
Choose how you'd like to contact us:
Scour Prevention, Your Way
Providing scour protection and remediation at bridges is one of the primary applications of HYDROTEX fabric-formed concrete.
Entirely custom-made to your requirements, a HYDROTEX geosynthetic panel can be easily unrolled at the base of a bridge's piles, then pumped with fine aggregate concrete with a small pump. Heavy equipment or complicated machinery is not necessary.
Looking for something different? HYDROTEX can offer other scour protection solutions at bridges and piers. These include abutment protection and other custom services.
Which industries typically need bridge pier scour protection services?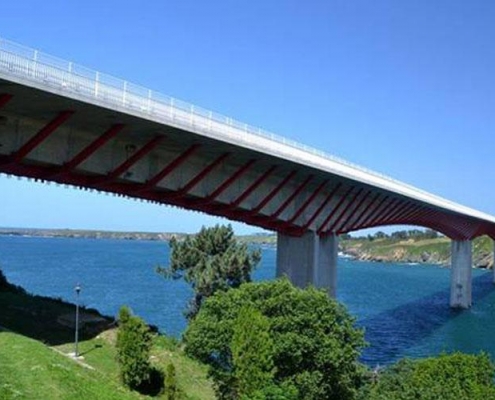 https://synthetex.com/wp-content/uploads/2020/02/Bridges.jpg
500
850
Thomas Evans
https://synthetex.com/wp-content/uploads/2019/08/synthetex_340_156_2.png
Thomas Evans
2020-02-05 13:40:34
2021-09-15 11:51:24
Scour Protection for Bridges & Piers
Prevent Local Scour at Ports with HYDROTEX
Bridge piers at ports shouldn't be left to the will of the sea's hydraulic forces.
Protect them with a HYDROTEX fabric-formed concrete articulating block mattress or an especially-designed grout bag.
Rather than relying on grouted riprap, prefabricated concrete blocks, and gabions, depend on HYDROTEX to effectively fill scour holes and prevent further damage. Regardless of the scour depth, our team can find a solution for you.
Need help? Give us a quick call at 1-800-225-0023 to chat with our engineers.
Who is Synthetex?
We are the manufacturer of HYDROTEX® geosynthetic fabric formwork used for the in-situ casting of concrete.
With our highly skilled team of engineers, Synthetex creates an easier process for you.
As your manufacturer, we work with each of those entities to deliver cost-effective solutions at every stage of your project. Our team will also assist with cost analyses, train installation teams, provide technical assistance, and assist with design and hydraulics.
We are more than a one-time supplier—we are your strategic partner for your current project and beyond.
https://synthetex.com/wp-content/uploads/2019/11/Grid.png
1001
1001
Thomas Evans
https://synthetex.com/wp-content/uploads/2019/08/synthetex_340_156_2.png
Thomas Evans
2019-11-14 10:15:28
2021-09-15 17:09:59
Bridge Pier Scour Protection Solutions
Synthetex's HYDROTEX® Grout (concrete) Bags (GB) and tubes are an economical and convenient choice for applications requiring concrete, grout or sand filling.  Constructed of the high-strength polyester fabrics and using a heavy-duty sewing process, our bags are ready to perform in your most demanding construction or repair installations.  The custom designed bag is available in a variety of materials and a wide assortment of dimensions, porosities, volume capacity, and filling valve types that ensure compatibility with your applications.  Their flexibility and size makes them ideal for installation through confined spaces.
Synthetex provided more than 70 grout bags ranging from a 1.5 m³ to 168 m³ capacity for the repair of an airstrip jetty in the Shetland Islands, Scotland.  The bags were first filled with water and then the water displaced with concrete to permanently fill voids in the rock jetty.
The bags provide the formwork required to cast concrete elements with the mass and stability to withstand the waves and rapidly flowing water.  The concrete grout bags may be placed side-by-side or stacked to form an inherently interlocked concrete structure.  As with our HYDROCAST® formworks, concrete grout bags can be positioned and filled with concrete from the surface in shallow water or by divers in deeper water.
Since they are cast-in-place, they intimately adapt to variations in the subgrade or bottom contours. Installations do not require dewatering, a crucial advantage in emergency repair of scour aprons.  Unlike rock or precast concrete blocks, they do not require placement by heavy lift cranes working from the land or from barges.
Synthetex's grout bags can be used to help with the following:
Breakwater, dike, groin and jetty repair
Bridge column repair
Culvert aprons
Embankment stabilization
Grout bag underpinning
Seawall and quay wall repairs
Scour repairs
Vertical drains
Void filling
https://synthetex.com/wp-content/uploads/2019/07/concerete-bags.jpg
177
225
katie
https://synthetex.com/wp-content/uploads/2019/08/synthetex_340_156_2.png
katie
2019-07-05 22:40:34
2021-01-07 13:09:59
HYDROTEX® Grout Bags
The effect of the marine environment on structural materials can be harsh and unforgiving.  The service life and structural capacity of elements composed of reinforced concrete, structural steel, timber, and composites are affected by spaling, rust and hostel marine environments.
Repairs to underwater bridge elements have been successfully completed for many years. However, the increased age of the bridges and related structures around the world, as well as the increased emphasis in regular underwater inspection by national bridge standards indicate an increased need to perform repairs to elements located below or in water.
Synthetex's high-strength HYDROTEX Pile Guards Fabric Formed Concrete pile jacket repair systems are available in lengths and diameters designed to armor your steel, concrete or timber piles with custom solutions and not restricted to the standard diameters.  Fabric formed pile jackets are a proven economical solution for the pile repair and protection.
https://synthetex.com/wp-content/uploads/2019/07/pg-pileguard-image264_0-1.jpg
500
850
https://synthetex.com/wp-content/uploads/2019/08/synthetex_340_156_2.png
2019-07-05 22:40:12
2020-09-29 12:55:18
Pile Guards
Articulating Block (AB) Concrete Linings
Articulating Block Mats form cable-reinforced concrete block mattresses that resist erosive forces. They are often constructed where a revetment is exposed to frontal attack by wave action.
AB Mats are typically used to protect coastlines, canals, rivers, lakes, reservoirs, underwater pipelines, bridge piers, and other marine structures from propeller wash, ship wakes, wind waves, currents, and high velocity flows. They are also used in environmental construction for landfill caps, down chutes, and collector channels.
The AB fabric form consists of a series of compartments linked by an interwoven perimeter. Grout ducts interconnect the compartments, and high-strength revetment cables are installed between and through the compartments and grout ducts.
Once filled, the AB Mats become a mattress of pillow-shaped, rectangular concrete blocks. The interwoven perimeters between the blocks serve as hinges to permit articulation. The cables remain embedded in the concrete blocks to link the blocks together and facilitate articulation.
Submit a Request for an Articulating Block Specification
We'll get back to you within 1-2 business days. All specifications are available in both nylon and polyester configurations.
Submit a request for a technical specification
We'll get back to you within 1-2 business days. All specifications are available in both nylon and polyester configurations.
HYDROTEX® Filter Point
HYDROTEX Articulating Block
HYDROTEX Uniform Section
HYDROTEX Filter Band
HYDROTEX Enviromat
https://synthetex.com/wp-content/uploads/2019/07/ab-new.jpg
142
225
katie
https://synthetex.com/wp-content/uploads/2019/08/synthetex_340_156_2.png
katie
2019-07-05 22:39:05
2021-01-07 13:16:21
HYDROTEX® Articulating Block